Durham CROP Hunger Walk General Information
Address
Duke University Chapel
401 Campus Drive (at the end of Science Drive)
Walk Distance
8K (4.8 miles)

Parking
Overflow parking will be available at the Chemistry parking lot at the corner of Tower-view and Circuit Drives. Address: 401 Chapel Dr, Durham, NC 27708
Check-in
If you have already registered online please gather around the chapel and enjoy the music. If you have not registered online, ONLY your team recruiter needs to turn in the team waiver form with your signatures on it when they check your team in.  Individual walkers can sign a waiver form at the registration desk.Team members should gather in the chapel area and enjoy the music and the Global Village activities until the Walk begins at 2:30 p.m.
Water
There will be bottled water available at the Walk, but we encourage you to be environmentally friendly and bring your own water bottle. There will be water and refreshment stops along the route. Please remember to recycle!
Rest Rooms
The first rest stop on Freeman Court will be the ONLY stop with rest rooms. We do not have port-a-johns on site.
Safety
Your safety is very important to us!  The Durham Police Department will have officers on site and CROP Hunger Walk volunteers will be driving "SAG WAGS" if you feel you are unable to continue to walk.
T-Shirts
Make sure you pick up a Durham CROP Hunger Walk T-Shirt before or after the walk for a suggested donation of $3 each. There will be a table set up in the plaza – cash and check accepted. Please make the check out to DHTF.
Map of Durham CROP Hunger Walk Course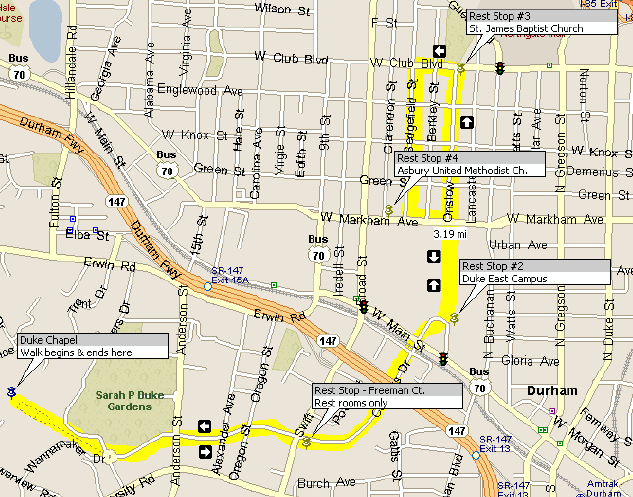 Walk Options for Participants
1. Participants can walk the entire route from Duke University Chapel to East Campus proceeding through the neighboring Walltown community and then return walking through East Campus and finishing at Duke Chapel  (Distance of 4.8 Miles)
Some people may want to participate and raise money to fight hunger, but not be able to walk the full 4.8 miles.  For those we offer the following suggestions:
2. Participants can walk from Duke Chapel to East Campus for a bus pick-up back to Duke Chapel (Distance of 1.8 Miles)
3. Participants can walk from Duke Chapel to East Campus and then back to Duke Chapel (Distance of 2.6 Miles)
We hope these options will enable more people to participate in this year's Walk.
For questions, please contact us at 919-451-7203.